Bottle-Free Water Coolers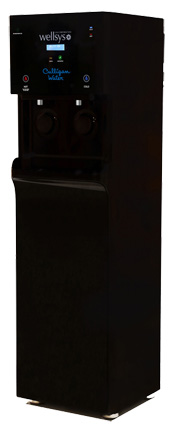 Culligan's Bottle-Free Water Cooler offers the ultimate in convenience for homes and offices that want the benefits of Culligan drinking water, but don't want to permanently install under-the-sink systems or store large 5 gallon bottles of water.
With a Bottle-Free Water Cooler you will enjoy an endless supply of clean drinking water without ever needing refill bottles.
That's because our Bottle-Free Water Coolers connect directly to a water line and use state-of-the-art reverse osmosis, or Preferred Series filtration technology, to deliver an endless supply of high-quality drinking water.
Culligan bottle-free water coolers have built-in filters that treat water at the source (known as point-of-use filtration), removing contaminants like:
Chlorine
Dirt
Rust
Volatile Organic Compounds
Sediment
Point-of-use bottle-free coolers equipped with reverse osmosis systems, like Culligan's Premium Series Bottle-Free Cooler, reduce all of the contaminants above, plus 98% of total dissolved solids and suspended particles like:
Chloride
Nitrate
Sodium
Radium
Sulfate
Lead
Copper
Zinc
Asbestos
Protozoan Cysts
and more…
Ultraviolet filtration is also available onselect bottleless water dispensers and coolers to further control bacteria and reduce microbiological growth.
Benefits of Going Bottleless
Culligan Water of Sonoma County provides water coolers with energy efficient and versatile solutions. Bottleless water coolers are bottle-free and hassle-free, eliminating the need for bottle water deliveries and allowing you to receive one predictable monthly invoice.
Features available on select bottleless water dispensers include:
Multiple temperature settings
Sleep mode to save energy and money
Dual safety shut-off valves to prevent overspill
Hot water safety locks to prevent scalding
Leak detection and automatic shutoff
Ultraviolet filtration to maintain water quality
For homes or offices with problem water, our water cooler filters can be customized to address your specific water problems.
So you can trust that you're getting only the highest quality, Culligan drinking water from your bottle-free water cooler.