Coffee
Culligan is proud to introduce the no-waste, please-everyone cup of coffee!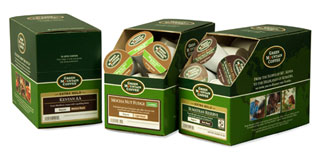 Sign up for Coffee & Water. Get the brewer. No Charge!
Treat your office to a trial of Green Mountain Coffee!
Call 800.478.3454 to schedule your office for a free coffee party. We'll let your employees try out a variety of coffees, teas and hot chocolate that we offer.
Same office, different drink?
With the unique Keurig Brewing System and Green Mountain K-Cups, everyone gets their favorite coffee or tea. Treat clients and customers to their choice of coffees, teas or hot cocoa.
38% of traditional pot coffee is thrown out! With individual serving sizes, there's no waste!
Don't make your team leave the office to find great coffee and tea! One-quarter of all employees leave the office to get great coffee or other drinks.
Great Coffee Made Easy
The patented K-Cups are designed to hold just the right amount of perfectly ground, perfectly roasted coffee. The K-Cup protects the coffee from light, air, and moisture. Each pre-measured, sealed cup contains a small filter. The Keurig brewer punctures the cup and in a matter of seconds, pressurized hot water brews a single cup of delicious coffee tea or cocoa. Call us to ask about the K-Cup flavors we have available.
With the Keurig B140, B200 and B3000 models, the coffee, tea or cocoa you want is brewed in a steamy cup in just 30 seconds.
Better Coffee from Better Water
Always use Culligan water for the best taste and to eliminate damage to the brewer. Some models can be connected to a Bottleless Water Cooler or Reverse Osmosis System.
Gourmet coffee? We'll provide you with a few simple recipes for making gourmet coffees as you'd find at trendy coffee houses – but for a lot less! Perfect for clients and customers.