Culligan Home Reverse Osmosis Water Filter Systems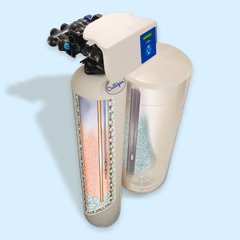 A whole house solution for very difficult or specific water problems.
For certain difficult waters, whole house reverse osmosis is sometimes not only the best solution, it is virtually the only solution. The most common application for large, point-of-entry reverse osmosis systems in the home is water with high salt content. Reverse osmosis effectively removes sodium, chloride, fluoride and other difficult-to-treat contaminants.
Culligan offers reverse osmosis water filter services and solves problems other filters cannot.
Targeted at problem well water users.
Multi-stage whole house water treatment including pre-treatment of water, a reverse osmosis system, large capacity storage tank, repressurization, and post-RO treatment as needed.
Centered around Culligan Matrix Solutions® reverse osmosis membranes.
Configured and installed specifically to your home's requirements by your Culligan Man.
Your local Culligan Man can recommend the right solution for you.