1.25 High-Efficiency Water Softener
Saving money and time with Culligan's highly efficient and intelligent water softener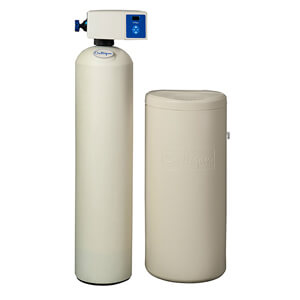 The Culligan HE 1.25 Softener is designed for a larger home and comprises all the benefits of the HE Series while satisfying a greater footprint. Optimizing salt, water, and electricity, this water softener saves you money and time, maximizing cost-efficiencies and minimizing cleaning efforts associated with hard water buildup.
The Culligan HE 1.25 Softener produces better-tasting drinking water for your family and pets and can help prolong the lifespan and efficiency of appliances, heating, and plumbing systems.
Benefits of 1.25-Inch High-Efficiency Water Softener
Cleaner, better-tasting water: Taste and feel a noticeable difference by reducing hard water scale from minerals in your water. The water conditioning and filtration will help reduce toxins, contaminants, pesticides and pharmaceutical residuals that can be found in tap water.
Unlimited access: Enjoy an endless supply of great tasting water without the hassle of dealing with pitchers or the costs of bottled water.
Trusted performance: The Culligan HE 1.25 Softener is third-party certified to perform as promised and is backed by one of the most comprehensive warranties in the industry.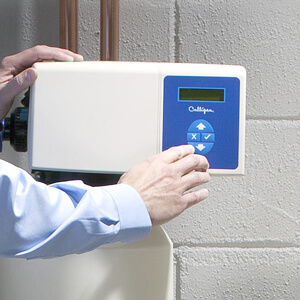 1.25-Inch High-Efficiency Water Softener Specs
Easy-to-access information: Smart brine tank automatically monitors salt levels and tells you how many days of salt are remaining. Plus, an easy-to-read backlit display with digital clock provides system alerts and lets you know your softener is working.
Convenience: Automatic bypass valve provides the convenience of bypassing the water softener from the softener itself or the remote display.
Reliability: A specialized, non-corrosive valve uses motorized pistons that provide more reliability than rotary valve systems. Plus, our high-impact Quadra-Hull® Tank stands up to outdoor use with a four-layer design that resists UV rays, rust, and corrosion.
Worry-free maintenance: Automatic Service Notification to your local Culligan Water Expert takes the hassle and guesswork out of maintenance.
1.25-Inch High-Efficiency Water Softener Owner's Manual
Download Here
Similar High-Efficiency Water Softener Solutions provided by Culligan Water of Sonoma County