Delivered Bottle Water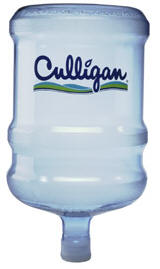 With over 70 years of experience, Culligan is the most recognized name in bottled water delivery. And with over 800 Culligan Dealers worldwide, no other water company delivers more bottled water than Culligan. So whether you need water for your own home or offices around the world, you can trust Culligan for your trusted, reliable source for your bottled water delivery service.Contact Santa Rosa Culligan Water  REVISIT for more details With a contact us on the left hand side.
Culligan Bottled Water Delivery is the easiest and most convenient way get Culligan drinking water in your home or office. All it takes is the push of a button to enjoy healthy, refreshing Culligan water. Your Culligan Man will handle everything else:

Help you buy or rent a Culligan water cooler, or we can deliver water to your own cooler
Establish a set schedule for water delivery
Deliver bottles and refill your water cooler
Remove and recycle your empty bottles
Maintain and clean your water cooler
Experience the benefits of Culligan Bottled Water Delivery for your home or office.
8 Glasses a Day is Only Good if Your Water is Too.
You can count on water from Culligan to taste great every time. Our bottled water is produced under strictly monitored processing and bottling standards set forth by the IBWA, EPA and Culligan. Our reverse osmosis purification process is the leading edge in contaminant removal, able to reduce microscopic impurities and chemical elements far more effectively than carbon filters, carbon filter pitchers and faucet filter attachments.
About Bottled Water
Refreshing Culligan bottled water is free of impurities, like sodium, lead and chlorine. A healthy choice – with a bottled water cooler kids tend to drink less soda and sugary drinks, and the whole family will drink more water. Plus, doctors recommend eight glasses a day for dieting, exercising and a healthier lifestyle.
Bottled Water Coolers
Culligan now has a variety of contemporary, stylish cooler designs that offer a variety of temperature settings. The space-saving design uses less than one square foot, and with the Culligan Care Cap™, a special valve that "pops" the cap open to release water only when the bottle is in place, our bottles are spill-proof!
Bottle-Free Coolers
If you're drinking more than three 5 gallon bottles a month you probably have a bottle storage problem. The POU (Point Of Use) or Bottle-Free cooler attaches to your existing plumbing/water supply and delivers filtered, bottled water quality right to your glass!
On The Go Bottles
You can take top-quality drinking water anywhere with Culligan water to go. Great for hydrating during exercise, kids' lunches, picnics, company parties, special events, outdoor activities, client meetings and more.