Gold Series Water Softener
Fresh, softened water, custom fit to your home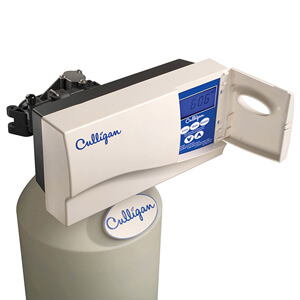 The customizable Culligan Gold Series Water Softener helps your appliances run smoothly to ensure high-quality cleaning throughout your home. The softener reduces hard water stains and optimizes water pressure, which helps eliminate streaks on your clean laundry and residue on your dishes. Soft water will help your laundry and dishes feel cleaner and last longer. You'll even save money and energy by minimizing the use of salt and water during each cycle.
Low-maintenance water softening with a high-capacity tank for all your household needs. Better yet, the hassle-free Culligan Gold Series Water Softener requires little-to-no maintenance.
Benefits of Gold Series Water Softener
Cleaner water: Your appliances can eliminate alkaline elements from your water, leaving you with clean, streak-free dishes and laundry.
Dependability: The Culligan Gold Series Water Softener always produces clean, soft water, even when you experience a power outage.
Efficiency: The non-corrosive, one-inch control valve will save you time and money by optimizing water pressure to deliver water when and where you need it the most.
Gold Series Water Softener Specs
Power: With just the touch of a button, the Guest Cycle recharge option generates an additional supply of conditioned water when you need it the most, meaning the power of clean water is always in your hands.
Quality: The Culligan Gold Series Water Softener is certified by the Water Quality Association and Underwriters Laboratories, a global safety certification company, meaning that our technology boasts quality you can count on.
Durability: The multi-layer, large-capacity Quadra-Hull® Tank is built to outlive seasonal conditions and ensures that you and your home always have access to soft water.
Gold Series Water Softener Owner's Manual
Download Here
Similar High-Efficiency Water Softener Solutions provided by Culligan Water of Sonoma County