HE Twin & HE Progressive Flow Water Softeners
Large-capacity customized water softness controlled from anywhere in your home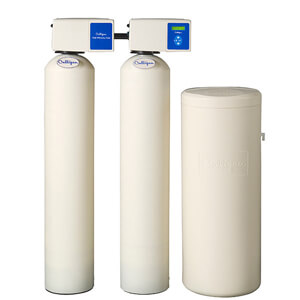 The Culligan HE Twin Water Softener provides a never-ending supply of water for your Sonoma County home or small business thanks to the power of dual tanks. You can now control and monitor the softener from anywhere within your home by utilizing the remote display option. The water softener is programmed to notify a Culligan Water Expert as soon as the unit needs servicing, creating the ultimate hassle-free experience.
Best of all, you can save money, water, and salt with the softener's advanced technology that adapts to water conditions so that your supply only regenerates when needed.
Benefits of HE Twin & HE Progressive Flow Water Softeners
Savings: Your system will automatically adjust to changes in water conditions thanks to Culligan's Aqua-Sensor® technology, and this means less regeneration and more of your money in the bank.
Peace-of-mind: The system will automatically alert the Culligan team when it needs servicing so that you don't have to monitor your dual tank water softener every day.
Simplicity: The easy-to-read backlit displays details the most important information you may need to know: how many days of salt are remaining and when you may need to refill.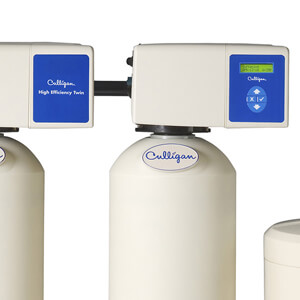 HE Twin & HE Progressive Flow Water Softeners Specs
Superiority: Our high flow water softener uses motorized pistons instead of a rotary valve system or that it lasts longer and requires little-to-no maintenance compared to a traditional system.
Stability: The dual Quadra-Hull tanks are built to withstand UV rays, dust, and corrosion, providing you and your home with endless soft, clean water in rain or shine.
Quality: You can rest assured that the Culligan HE Twin Water Softener has been manufactured with the highest quality as it's validated by both the Water Quality Association and the Underwriters Laboratories.
HE Twin & HE Progressive Flow Water Softeners Owner's Manual
Download Here
Similar High-Efficiency Water Softener Solutions provided by Culligan Water of Sonoma County