HE Municipal Water Conditioner
You can count on Culligan's effectiveness of water softening and filtration with HE Municipal Water Conditioner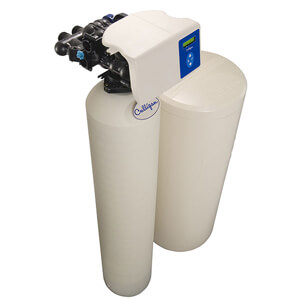 The High-Efficiency Municipal Water Conditioner provided by Culligan Water of Sonoma County delivers a comprehensive treatment for large-scale properties, reduces chlorine effects and softens water easily. Whether you're hoping to decrease energy expenses and increase appliance efficiency or benefit from shinier hair, cleaner skin and less soap scum on dishes and glasses, the Culligan water conditioning system is your long-term solution. Plus, the benefits of water filtration far exceed pitcher or refrigerator filtration systems.
The Culligan High-Efficiency Municipal Water Conditioner will reduce common toxins, contaminants, pesticides, and pharmaceutical residuals that can linger in tap water, leaving your family with cleaner and better-tasting water.
Benefits of HE Municipal Water Conditioner
All-in-one solution: Enjoy the benefits of softening and filtering water simultaneously with a single, cost-effective product.
Better tasting, cleaner water: The Culligan municipal water system absorbs chlorine tastes and odors and delivers quality drinking water for your family and pets.
Increased efficiencies: This softener eliminates scale buildup and clogging, helping to prolongs the lifespan of everything from home appliances to pipes.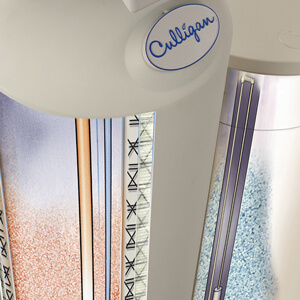 HE Municipal Water Conditioner Specs
Customization and control: Monitor your softener from virtually anywhere in your home and customize the feel of your water so it never feels too hard or too soft.
Efficiency: Proportional brining allows your softener to regenerate only the part of the resin bed that has been exhausted, reducing its salt usage.
Easy-to-access information: Smart brine tank automatically monitors salt levels and tells you how many days of salt are remaining. Plus, an easy-to-read backlit display with digital clock provides system alerts and lets you know your softener is working.
Convenience: Automatic bypass valve provides the convenience of bypassing the water softener from the softener itself or the remote display.
Reliability: A specialized, non-corrosive valve uses motorized pistons that provide more reliability than rotary valve systems.
Durability: Our high-impact Quadra-Hull® Tank stands up to outdoor use with a four-layer design that resists UV rays, rust, and corrosion.
Worry-free maintenance: Automatic Service Notification to your local Culligan Water Expert takes the hassle and guesswork out of maintenance.
Similar High-Efficiency Water Softener Solutions provided by Culligan Water of Sonoma County