Medallist Series® Water Softener
Medallist Series® Water Softener delivers efficient, flexible water softening and filtration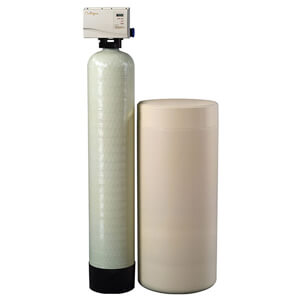 Efficient and easy to use, the Medallist Series® seamlessly integrates into your home's plumbing with state-of-the-art softening and water filtration technology, and solid, durable construction. For hard water problems, the Medallist Series® provides softening you can count on, and as always it is backed by one of the most comprehensive warranties in the industry.
Knowing the cause can help you find a solution. Finally, there's a way to find out what may cause problem water in Santa Rosa and throughout Sonoma County.
Benefits of Medallist Series® Water Softener
Get all of the features of a Culligan home water softener in an affordable design.
Makes appliances more efficient and last longer.
Seamless integration into your plumbing allows you to use softened and filtered water throughout your home.
Culligan water systems are third-party certified to perform as promised and are backed by one of the most comprehensive warranties in the industry.
Enjoy silky, shiny hair and cleaner, smoother skin.
Brighter, whiter and softer wash.
Sparkling glassware, clean and shiny dishes, flatware, pots, and pans.
Spend less on soaps, detergents, lotions, electricity, and gas for your water heater.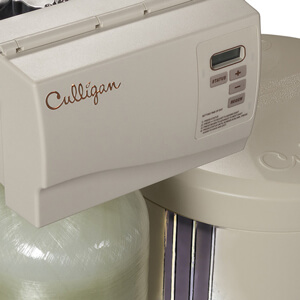 Medallist Series® Water Softener Specs
¾" or 1″ control valve optimizes water pressure throughout your home.
Non-corrosive control valve is designed to deliver years of reliable service.
ACCUSOFT® Microprocessor offers worry-free operation of your water softener, even in power outages.
Dubl-Safe brine refill valve provides peace of mind during refill.
Guest Cycle recharge option generates an extra supply of soft water at the touch of a button.
CULLEX® resin provides maximum capacity, stability, and long-lasting operation.
High-grade quartz underbedding distributes water evenly, maximizing water flow.
Solid tank design built with durable, filament-wound exterior and a smooth, non-permeable inner tank shell.
Available in optional UL-certified, weather-resistant enclosure for outdoor installation.
The motorized pistons are ideal for problem water and provide more reliability than rotary valve systems.
Automatic bypass valve provides the convenience of bypassing the water filter from the filter itself or the remote display.
Exclusive Culligan Soft-Minder® meter monitors daily water use and provides advanced system diagnostics.
The easy-to-read backlit display with digital clock lets you know your filter is working and warns of system malfunctions.
Optional remote display makes it possible to control and monitor the filter from virtually anywhere in the home.
Optional modem can alert Culligan dealership if filter needs service.
Similar High-Efficiency Water Softener Solutions provided by Culligan Water of Sonoma County